---
MyMediBag Hardcase Insulated - Large
Bright Orange Colour Easy to Spot
What is mymedibag?
Mymedibag is a compact and sturdy medication case that provides insulation and protection to you essential medicine. It holds also a personal identification and medication cards.
Why mymedibag?
The design of mymedibag is specifically aimed at safeguarding and carrying crucial medication.
Made of heavy-duty yet lightweight fabric, mymedibag ensures the safekeeping of your medication while being easy to carry in your bag.
Mymedibag is made of 5mm EVA with an orange 600D nylon lining which is the perfect choice for products that require a combination of durability and shock absorption.
Internally Insulated with lining which helps to maintain the temperature of the contents inside the bag.
This versatile medication bag is suitable for a variety of settings, such as day-care and school, holiday and vacation, sport activities, and the workplace.
Suitable for adults and children of all ages.
In addition to holding medication, this case has pocket and window for identification, emergency contacts and medication cards. They are critical information that can help medical professionals provide appropriate care in an emergency situation. They can help prevent potentially dangerous reactions to medications or treatments and provide quick access to important information that can save lives.
Why mymeddibag is orange?
The reason for its orange color is to increase its visibility, especially during emergencies, so that it can be easily spotted and located.
Additionally, this mymedibag comes with a GLOW CROSS which can be sticked on the 3D cross, enhancing visibility in the dark.
It holds:
2 epipens with or without carry case, asthma inhaler and spacer with mask, little

bottle antihistamine (or box of tablets)
Size and Weight:
• Sizes in cm: 21 (L) x 12 (W) x 7.5 (H)
• Weight: 225 gr
Description:
Hardcase with internal insulation

External carabiner

Carry Bag Handle

External pocket for identification card (card included)

Internal pocket for medication card (card included)

Ideal for asthma inhalers and spacer, epipen, anapen, auto-injector, diabetes medication and more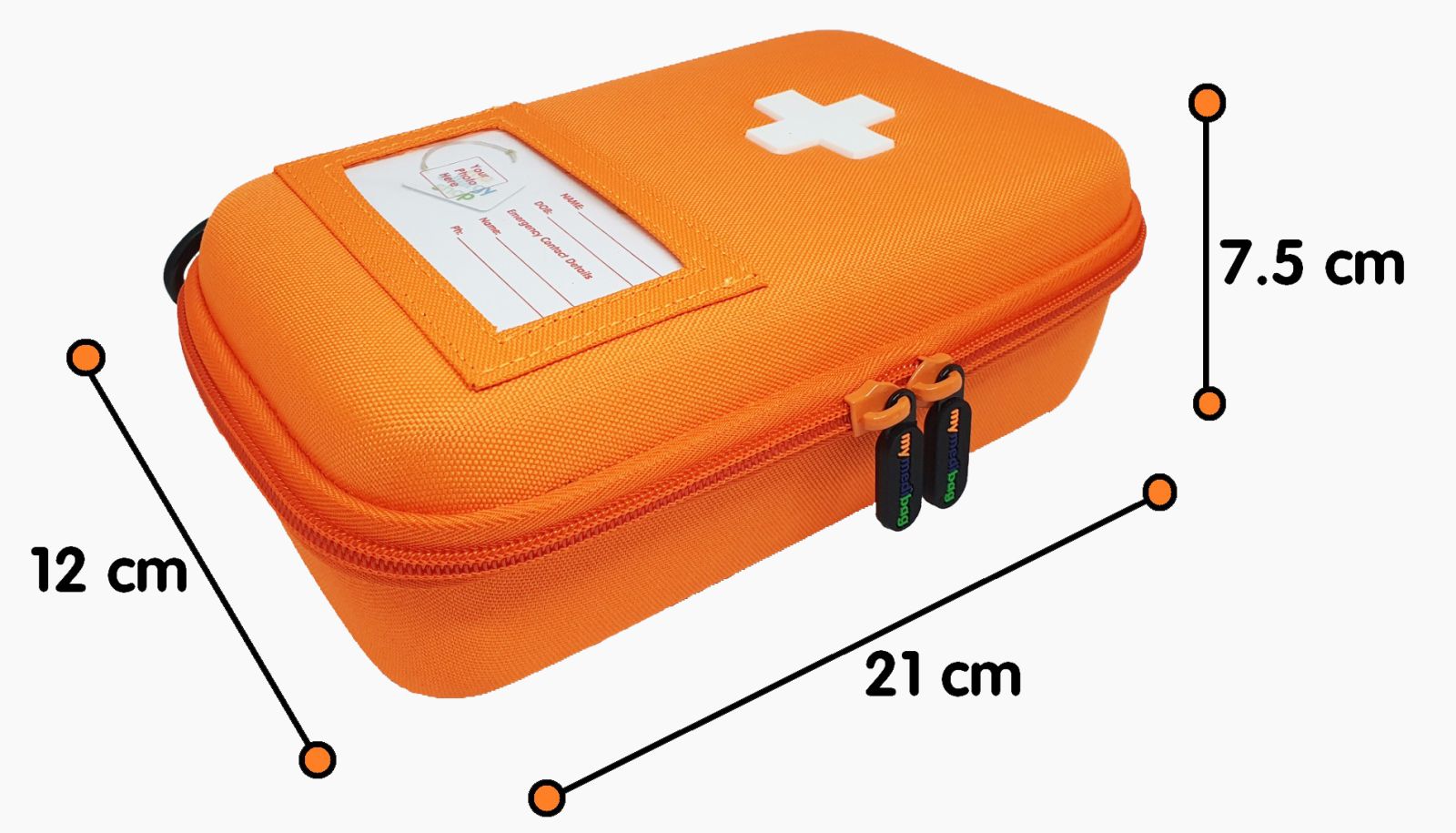 With the bag you will get also:
• How to use the epipen card
• Anaphylaxis action plan (if available)
• Ashtma brochure (if available)
• How to use the asthma inhaler information sheet (if available)
Mymedibag is a Trademark by The Allergy Shop Pty Ltd. Design Protection is in the process to be finalized in Australia, USA, Canada and Europe (including UK). Please visit www.mymedibag.com.au
How to store Epipen:
Keep EpiPen in a cool dry place below 25°C. Temperature excursions between 15°C to 25°C permitted.
Do not place EpiPen in the fridge.
Do not leave EpiPen in your car.
Protect Epipen from light.
How to store Asthma Inhaler:
Keep the inhaler away from extremes of heat and cold. The glove box of your car might seem like a handy place to store an inhaler, but the extreme heat and cold the inhaler will be exposed to in your car can change the composition of the medication and render it ineffective. For example, the patient information sheet for one form of albuterol, brand name Proventil, cautions that at temperatures above 48ºC degrees the inhaler could burst. The manufacturers of Proventil recommend storing it at temperatures between 15ºC and 25ºC, and this is a good range to keep in mind for all inhalers.
How to use the Epipen:
Please note: Mymedibag is not affiliated or endorsed by any epinephrine auto-injector manufacturer or distributor.
EpiPen® is a registered trademark of Dey, L.P.
Anapen® is a registered trademark of Lincoln Medical Ltd
(MYMEDI-004)
| | |
| --- | --- |
| SKU | MYMEDI-004 |
| Brand | MYMEDIBAG |
| Shipping Weight | 0.3000kg |
| Shipping Width | 0.200m |
| Shipping Height | 0.100m |
| Shipping Length | 0.150m |
| Assembled Length | 15.000m |
| Assembled Height | 10.000m |
Be The First To Review This Product!
Help other The Allergy Shop Pty Ltd users shop smarter by writing reviews for products you have purchased.
Others Also Bought
More From This Category