---
Bamboo Gloves for Adults, Size-XS extra small
Eco-friendly bamboo, perfect for skin conditions
Introducing our premium Bamboo Gloves for Eczema Relief – the ultimate solution crafted with care to soothe sensitive skin. Engineered from natural bamboo fibers, these gloves offer unparalleled comfort and gentle protection for individuals battling eczema.
Designed to provide a soft, breathable barrier, these gloves offer relief from itching and irritation commonly associated with eczema. The hypoallergenic and eco-friendly bamboo material ensures a smooth touch, minimizing skin friction and allowing for adequate airflow, promoting a healthier environment for the skin to heal.
Our Bamboo Gloves are tailored to offer maximum dexterity while securely hugging the hands, enabling individuals to comfortably engage in daily tasks without exacerbating eczema symptoms. Whether worn during the day or night, these gloves are a reliable companion in your quest for eczema management and comfort.
Say goodbye to discomfort and hello to soothing relief with our Bamboo Gloves for Eczema – a dependable choice to nurture your skin and restore your confidence. Invest in the gentle care your skin deserves and experience the difference today!
They are:
help to reduce scratching and itching
can be worn over cream or under rubber gloves
come in 4 different sizes that fit snugly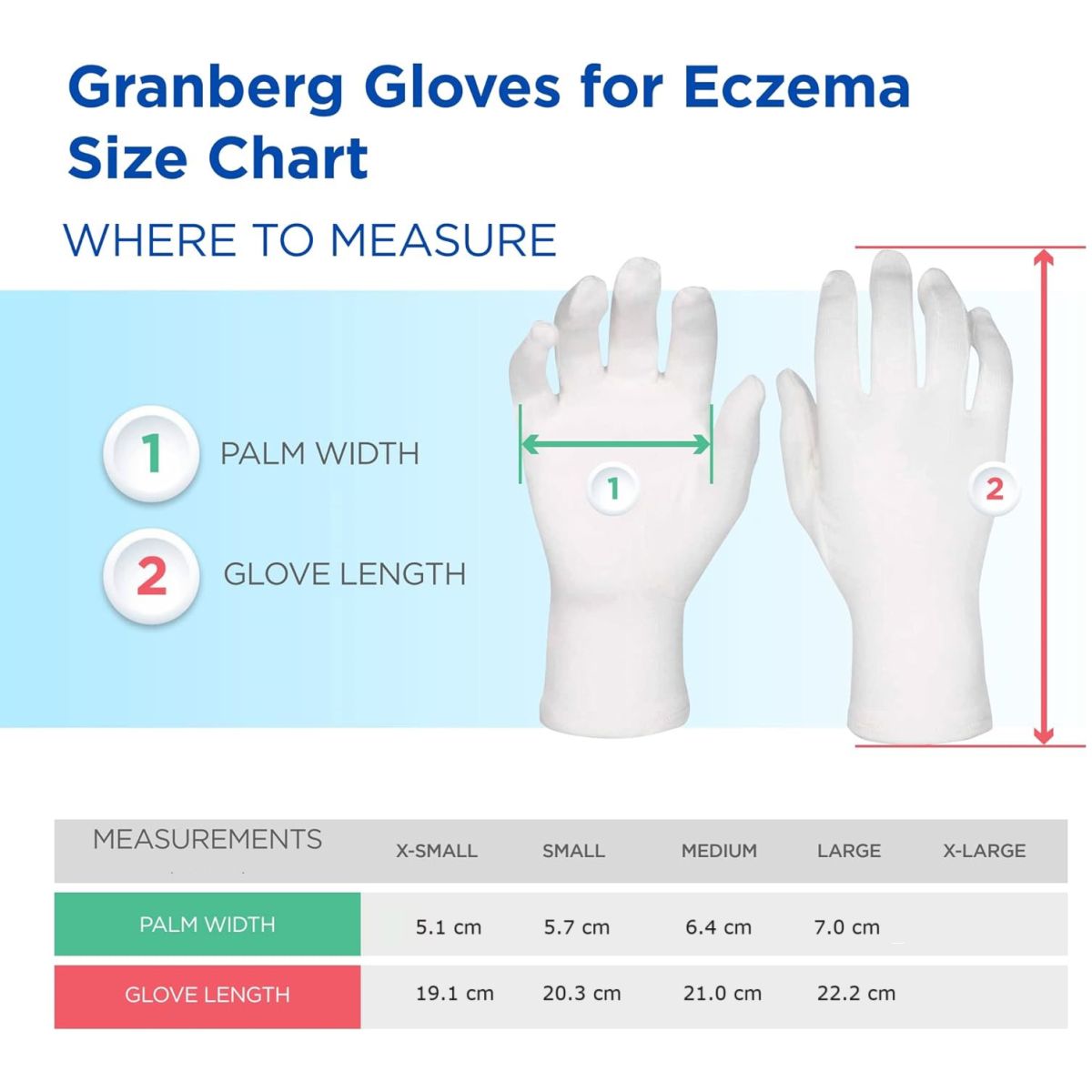 SIZE CHART: Our size chart serves as a helpful guide to assist you in choosing the ideal size. However, if you find yourself between sizes or unsure about the best fit, we recommend opting for the larger size. This ensures a slightly looser fit, minimizing any potential constriction and enhancing overall comfort during wear.
Benefits of bamboo:
- Antibacterial - bamboo has natural elements to prevent the spread of bacteria
- Great insulating properties - keeps you cooler in summer and warm in winter
- One of the softest natural fabric on the planet - you will love the way it feels
- Natural UV protection - protects your hands from sun-burns and further aggravating skin conditions
- Hypoallergenic - natural bamboo does not cause allergic reactions
- Most eco-friendly fabric on the planet - from organic farming
Composition:
All about bamboo HERE
IMPORTANT: It is important to note that these items are non-sterile and should not be used to cover open wounds. For any open wounds, only a sterile wound dressing should be used to prevent infection.
(BAGLOA-000)
| | |
| --- | --- |
| SKU | BAGLOA-000 |
| Shipping Weight | 0.1000kg |
| Shipping Width | 0.250m |
| Shipping Height | 0.050m |
| Shipping Length | 0.010m |
| Assembled Length | 1.000m |
| Assembled Height | 5.000m |
Perfect for my eczema!

Absolutely love these gloves, I've stockpiled these for years to come! I wear these when I sleep to stop me from scratching the eczema on my hands and they work well - I put on my eczema cream before I go to bed, then wear the gloves over top. They fit really snugly, so I'm not tempted to scratch underneath the gloves! Highly recommend!




(5)
Others Also Bought
More From This Category